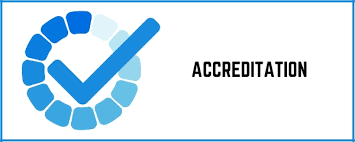 Accreditation is the recognition from an accrediting private or public agency that an institution maintains a certain level of educational standards.
The Accreditation comes in many forms, style and format.
The first category of accreditation is generally granted to schools, colleges and university to legally operate and provide education as per laws. In the US all schools need to be accredited with recognized accreditation agency. In many countries, the legal validity of any educational institution lies on the status of accreditation from government recognized accrediting agencies. The diploma and degree issued by schools, colleges without accreditation are not recognized by law. These accreditations are government regulated and provide legal validity to educational institutions to operate as per law.
The second category of accreditation is attached with quality benchmark and generally granted in specific areas.
The private of public accreditation agency provides a framework and benchmark for quality which applicant schools need to achieve in order to get the accreditation.
Such accreditation are given for teaching methods, curricula, subjects, infrastructure, good school ratings, overall integrity etc.
For example stem accreditation is generally granted on the framework of science technology, engineering and math by private agencies.
The list of some of the agencies which provide accreditation based on their propitiatory framework. (Not exhaustive only for reference and educational purpose)
| Name of the Institution | Constitution | Metrics/Coverage | Framework or area |
| --- | --- | --- | --- |
| Council of International Schools | Private agency | International Accreditation for Schools | Student learning and Global citizenship |
| British Council | Public/private | International Accreditation for Schools | Learning outcomes/Methodologies/ approaches |
| EDU | Inter-Governmental | International Accreditation for Schools, colleges and Universities | Legal and competency of institution |
| Cognia | Private agency | International Accreditation for Schools, colleges and Universities | Better learners outcome/ methodology/ continuous improvement |
| Stem dot org | Private agency | International Accreditation for Schools, colleges and Universities | STEM Framework |
| Diplomatic Reserach and Policy Foundation and CCLP Worldwide | Inter-Governmental | International Accreditation for Schools, colleges and Universities | NEST Methodology Framework/ Teaching methodology/ quality accreditation/ Stem |